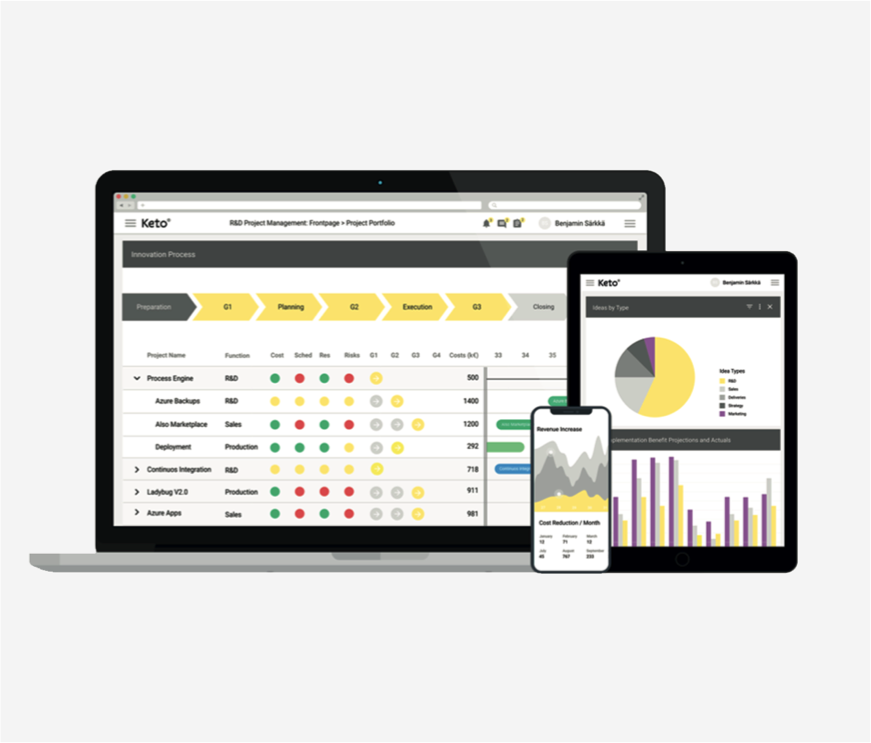 The Keto Platform for innovation and development
The Keto Platform v5 combines process, portfolio, resource, budget and risk management in one elegant console.
Together with enterprise and public sector customers, we have designed a seamless BI platform with comprehensive tools and analytics, all fully integrated – not bolt on, blades or disparate acquired technologies.
We have a Platform-as-a-Service model for partners, like consultants, resellers and architects. Register to find out more >
Enterprise and public sector customers
The Keto Software Partner Programme
PaaS model
We have a Platform-as-a-Service partnership model, designed for resellers, consultants and IT specialists to increase revenue - fast.
Resellers and consultants
We love small and medium-sized specialists that work with enterprises and focus on e.g. digital transformation, business intelligence, innovation, information design and management, or portfolio, project, resource or risk management.
Grow with us
Increase revenue and open new market opportunities with tools, support and revenue sharing to fit your business model.
ICT & IT architecture companies
We have a great track record of working with companies that are experts in strategy and implementation to drive enterprise digital transformation, IT growth and the modernisation of IT departments.
Strong track record
We have the tools, process and agreements ready to get you started quickly and a proven track record of successful partnerships.
Technology providers
We work with tech companies to ensure we meet IT and security standards and for bullet-proof integrations. We actively seek strategic partners e.g. CSPs, technology companies and sector-specific organisations.