Welcome to Keto's
R&D Lab
We at Keto Software are huge fans of doing things in a simple and efficient way and try to make Lean philosophy visible in our everyday operations.
Our R&D and Product Management are no exception, information and feedback (or should it actually be feed-forward, to guide the future) flows in a simple way from Account Responsible or Sales team directly to Client teams for configuration changes, or to R&D Platform prioritization board for evaluation and execution.
To support this flow, we are obviously using the same Keto Platform internally to manage Service Tickets, Needs for Product Management and R&D development activities in iterations.
Lean and Agile development of the v5 Platform in Keto Way
Clip from our Intra solution menu shows you the processes. A service request is entered to our Ticket portfolio (unless we have agreed to use some other method, like your internal solution for ticket handling).

RD prioritization board members scan through these requests and information from Sales (quite often we are getting valuable hints during our discussions in webinars and demo sessions) and brings these to our biweekly meetings for evaluation. In the meeting a solution to configure the requested feature or change might be identified to resolve the issue immediately or the item might be added to RD iteration backlog for development.

RD team performs their work in 2-week Sprints, producing new Platform Release Candidates at minimum at the end of the Sprint, quite often upon request from a Customer Project Manager or Account responsible. These RC:s are tested by Product Management and Account responsible requesting the feature. A successful RC version might then be used for Customer's proto/dev or test solution, so that the desired performance can be validated for next production upgrade.

In the next issue, I will continue to tell you a bit about how the customer solution upgrades are managed with an automated build tool and how your customer specific parts are managed during the upgrades, till next time!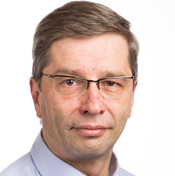 Veli-Matti Karppinen
CPO
I've been working with Keto Software since 2017 after a long project management and RD career in industrial companies. My current responsibilities include technical support for sales team, collection of customer feedback for product feature design and overall product support. As all our Management Team members, I continue to support few key accounts to keep a close touch to real life use of our solutions. My professional interests, in addition to Project and Product Management, include Operational Excellence practices, especially Lean, Six Sigma and other Continuous Improvement and Quality Management tools.


Keto News 1st Issue Themes
Below you can click to the other themes of our first issue of Keto News
Good News from Keto
Our CEO Veijo Hytti talks about the latest updates in Keto world
"I'm very happy to announce that we are now publishing our first Keto News. Our aim is to give you some insights about innovation, development, portfolio management and technology. And naturally some news about our latest product releases and company plans."
Read more through here.
User Case
Fortum Recycling & Waste
Read how our customer Fortum Recycling & Waste has increased their efficiency with the Keto 5 Platform.
Download the case study here.
Blog
Life-saving System
Our COO Markus Halonen explains us, how Keto v5 Platform has saved our customer's life.
Read the blog here.